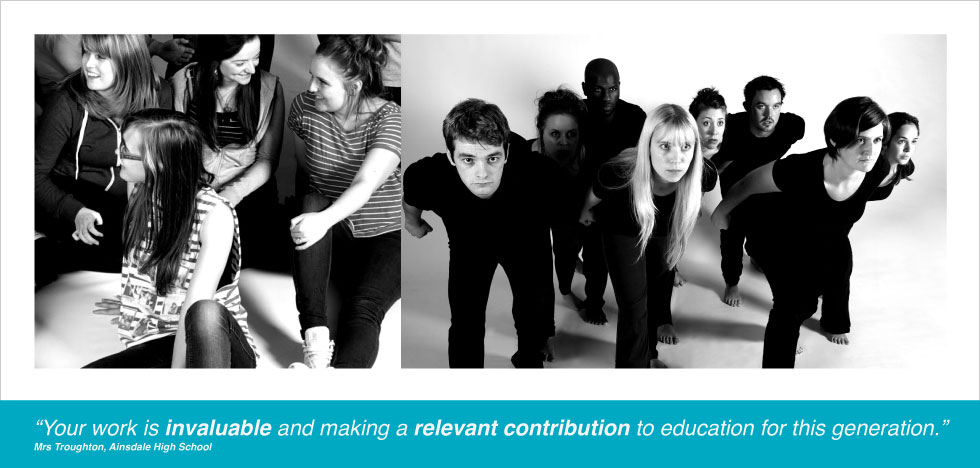 Pure Creative Arts is a dynamic charity using theatre-in-education productions, interactive workshops and ongoing mentoring projects in schools & youth groups across Merseyside and beyond. We tackle issues that young people often find hardest to talk about.
'Rates of self harm in the UK are among the highest in Europe'
Pure believe that young people need to be given space to discuss the things that affect them and create an environment that enables them to open up and discuss the questions they have whilst being supported to work through the issues they are struggling with.
'Around one in twenty girls in the UK are estimated to have suffered from anorexia nervosa'
Pure is a multi-faceted organisation which uses many creative disciplines within schools and youth settings, with multimedia theatre productions, high impact dramatic performances, and interactive workshops.
'One in every ten babies born in England is to a teenage mum'
We are passionate about setting up teams in each city across the UK to reach more young people with the services that we provide. We want each individual who comes into contact with the work of Pure to have access to our 'follow up' services.
'Three million young people in the UK are growing up in a lone parent household, with just over one million of those having no access to a father in their lives at all.'
We currently have team members developing and planning work in both London and York, as well as having friends around the country. We're always looking to expand to new areas if it's viable, but when doing so, we make sure to have the right team and resources in place to really serve the young people in that region well.
Pure is available for booking across Merseyside and nationally. Please browse our website or contact us on 0787 426 8682 or info@purecreativearts.co.uk if you would like any more information.